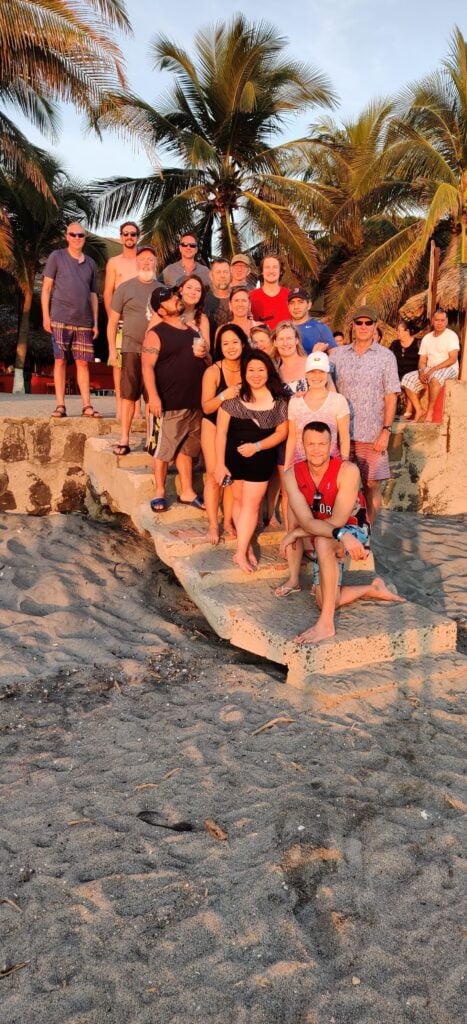 What a crazy week! After participating this week in the home builds with all the amazing energy of a mid sixties male of the species I kind of bottomed out in a good way at our daily recap meeting. I felt like this was the big reveal, chairs in a big circle, this was it, personal recaps flowing and it was my turn.  I was mildly sleep deprived and slightly exhausted by 6 days of high humidity and 38 degree heat and as I spoke I was  instantaneously overwhelmed to be honest. I suddenly realized that building 20 new homes with a small team of warm and engaging underprivileged El Salvadoran families was much more than just building 20 homes. It became very apparent that I had found a new recipe for making good friends and good memories. I realized that the always great office associates had become great friends and the many other build team mates and villagers were now new friends too. 

This week of  building  was a vacation to be sure but this was like no beach holiday or Vegas getaway. It would be impossible to leave El Salvador and not feel that you had hit a jackpot, that you had just kind of won really big at the craps table, you had suddenly been adopted by a mixed race family of happy hardworking El Salvadorans and Canadians. You were now part of the village. Your life had become much richer in a short week. To top it off you hit triple sevens on the slot machines and the win gave 80 plus citizens in the little El Salvadoran village 20 new homes. You were on a multinational team of Campeones (Champions)! The whole experience was better than a day at the beach which by no coincidence was how we spent our last day in El Salvador Who wouldn't like that kind of holiday?
Thanks to everyone for letting me be part of the team and hats off to the Alta West team, Shelter Canada, and everyone that worked in the blazing El Salvadoran sun. 


Cal Morstad