Good morning Examiners.
Today we will be looking at the paintings of Jackson Pollock.
Famous for his drip-style and splatter paintings, Pollock was a forerunner of the modernist era of art.
In 1912, Jackson was born into a poor family in Tingley, Iowa. He was an angry child; angry at society, at the systems within it, and at himself. He was expelled from 3 high schools before he moved to New York with his older brother to study art under the tutelage of Thomas Hart Benton, a painter famous for creating this: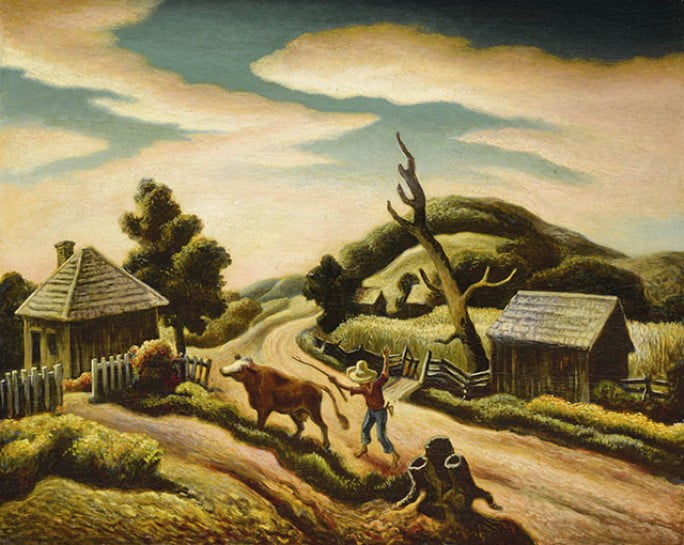 and this.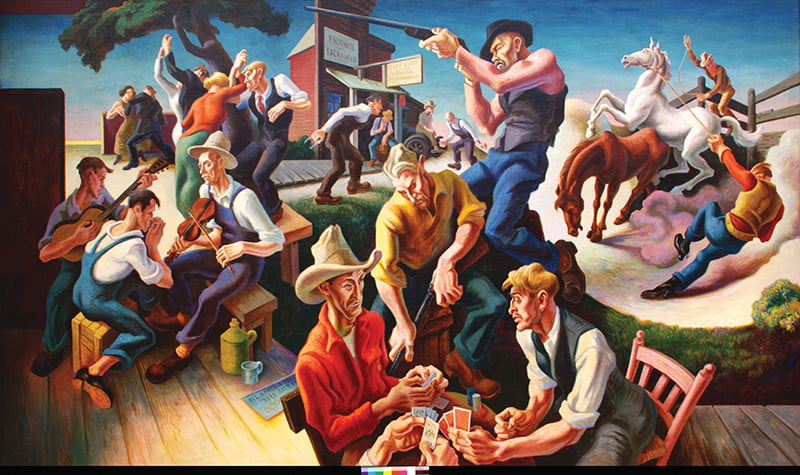 Pollock said that Benton's rural subject matter had little influence on his work, but that Benton's rhythmic use of paint and his fervent (word of the day: passionate or intense in spirit) independence had a lasting impact on him.
By the mid-30s, Pollock had internalized the same fierce independence of Benton, and began to experiment with the style he would later become known for…
This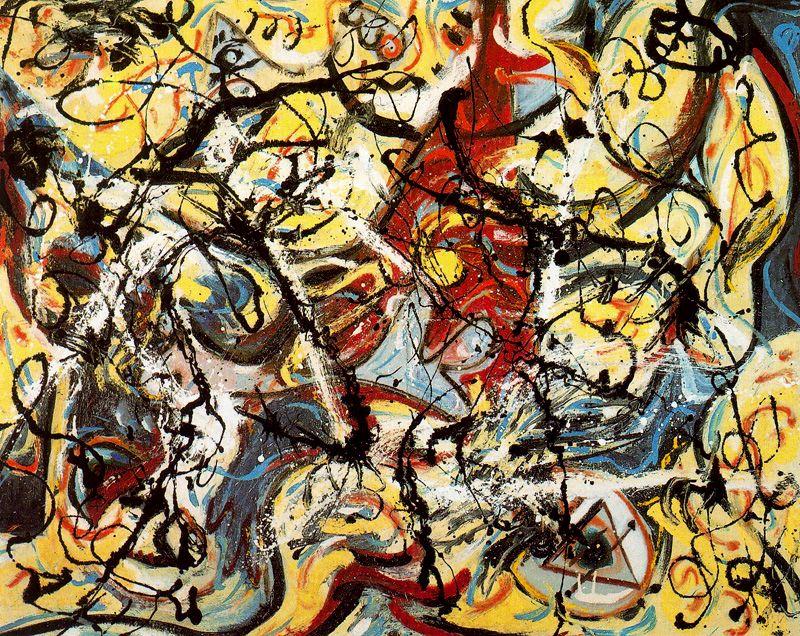 And this: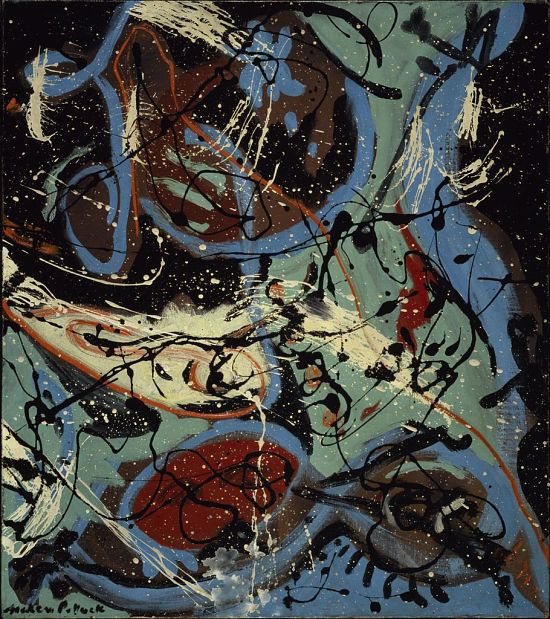 Beautiful to some and monstrous to others, Pollock's work would prove to be incredibly divisive in the art community. One side argued that he was creating art that had never before been created.
The other side argued that it had never before been created for a good reason: it sucked.
While some felt his work to be incredibly emotional and evocative, others felt that it demonstrated no utilization of technique, skill or prowess. Nonetheless, Peggy Guggenheim (a famous art collector at the time and founder of the Guggenheim Art Museum) began to sponsor and display his works; Pollock's name exploded throughout America.
Do you think deservedly?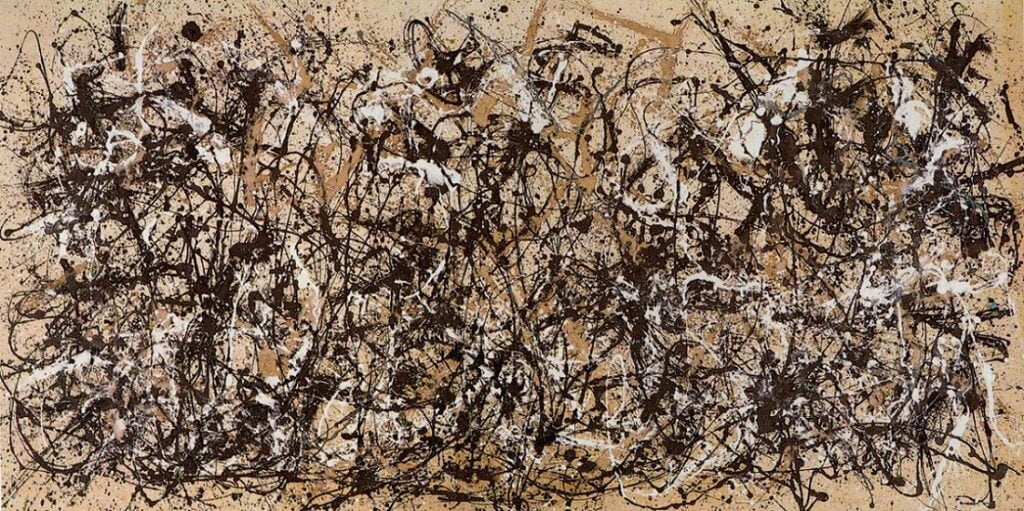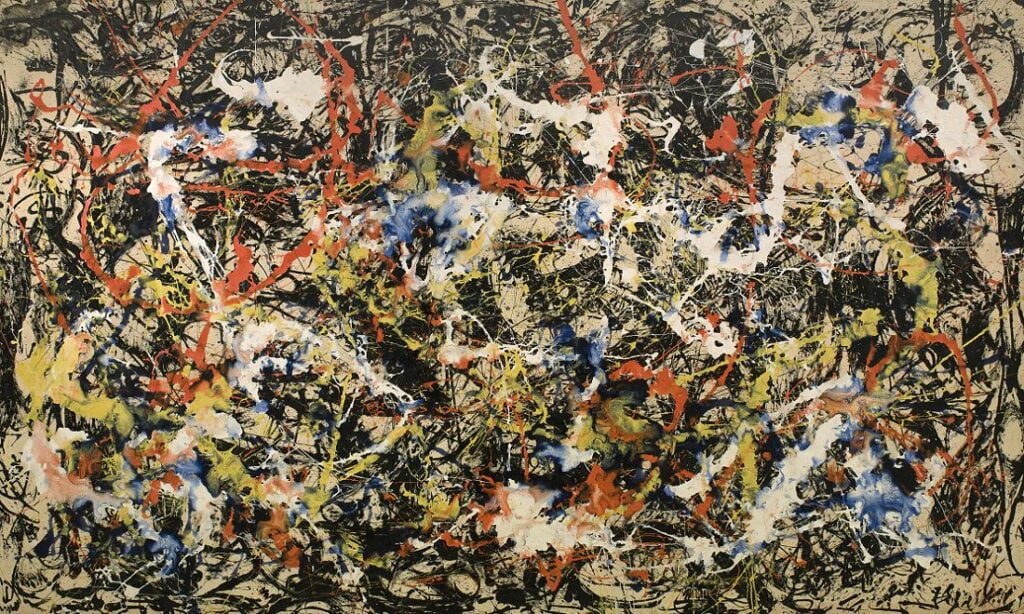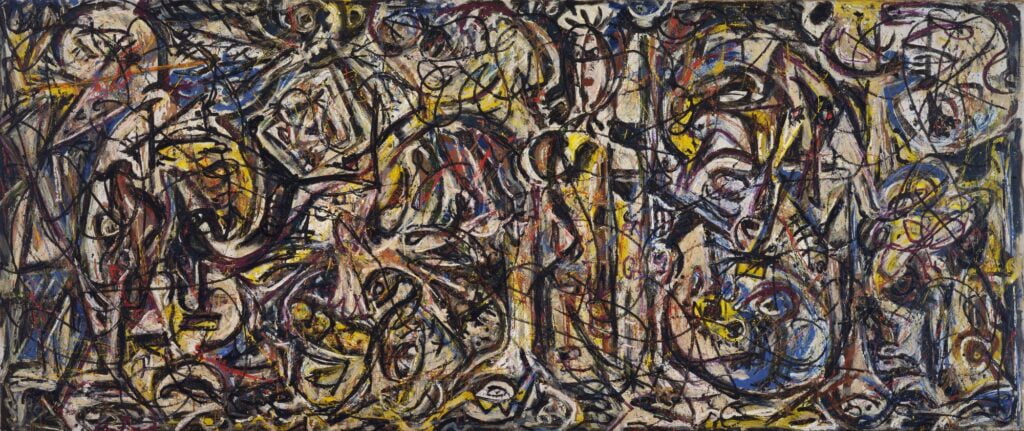 Each painting was met with great praise by many, and greater scorn by more. This became so terrible at one point that Pollock said he couldn't even tell if his own work was good or not, and he would simply send his art to Peggy and have her decide.
Pollock's most famous paintings were made from 1945-1950.
In 1950, what art historians argue was the peak of Pollock's fame, two things happened. The first was a four-page article published by Life that asked if "Jackson Pollock was the greatest living painter in America." The second was that Jackson abruptly stopped painting.
For several years, Pollock made almost nothing. His family reported that his life-long struggle with alcoholism was becoming much worse and he wouldn't respond to Peggy's letters or calls.
He gave up.
It seemed like fame had been too much for the troubled painter; that it had taken an irreparable toll on the man.
But in 1953, at the implorings of his friends, the Guggenheims, and his family, Jackson would create once more. The painting he made never would become as famous as his earlier work, but to me, it is his most profound. To me, it is the encapsulation of the life of an artist, it is a picture of the human soul.
In 1953, Pollock painted
The Deep: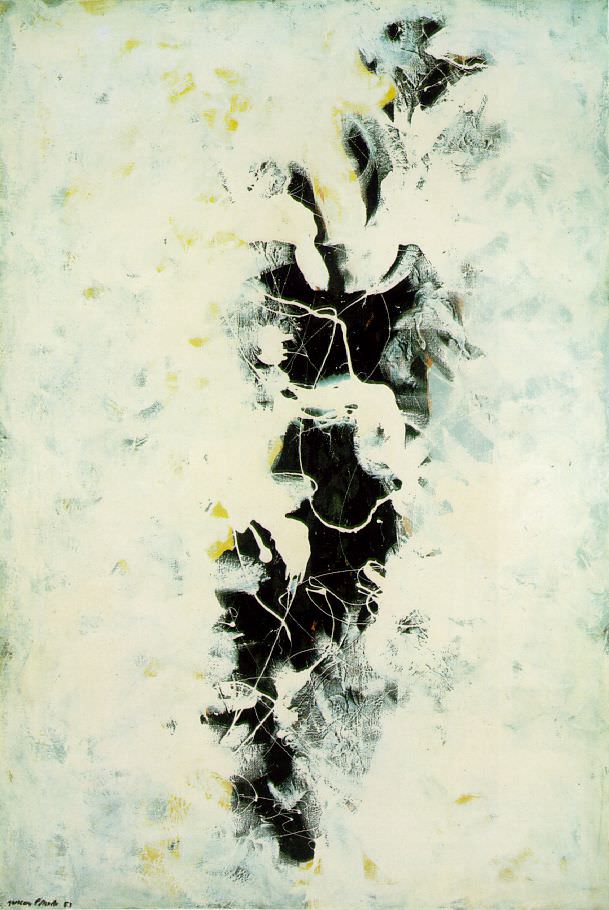 3 years later, Pollock would meet an untimely death.
Born in 1912, Dying in 1956, Pollock's work will remain eternally preserved in the corridors of Humankind's memory. Whether his art is loved or hated retrospectively, Pollock will always be remembered as someone who did something new, and ultimately never succumbed to the hate he received.
And if that isn't the way to measure a man, what is?

Go forth, Examiners,
Into the deep.
The Golden Scribe